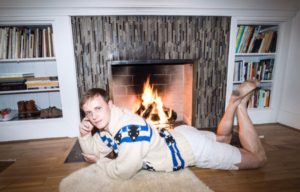 "A more appropriate name for the City of Angels is the City of Ghosts. People come out of nowhere, surprise you, maybe even kiss you, and then, they wane into nothingness. Never responding to iMessages with a line of grey to balance your growing bubbles of blue. With so many ghosts it's easy to think that you're the common denominator. The spirit chaser and never the ghostbuster."
Flaunt Magazine visited Onsen's Drew Straus at home and featured a What's In Your Fridge interview about his music, taste in artwork, what spices he likes to cook with, and many other details that provide a glimpse into the mind behind Onsen. Flaunt also premiered the new music video directed by Andy Byers for "Peggy Lee" from Onsen's debut album Earthquake Weather.
Watch the video for Peggy Lee by clicking the play button on the right side and read the full article here.